We provide an environment that positively contributes to the livelihoods of our employees and our local communities

Safety
At IndoAgri, our goal is to ensure that all our employees return home safely everyday. To achieve this goal, we have a constant focus on maintaining a safety culture.
100% of our sites have now set up SMK3 (Sistem Manajemen Keselamatan dan Kesehatan Kerja), the Indonesian Occupational Health and Safety standard. 51 sites (43 in palm oil, 4 in rubber, and 4 in other crop operations) also achieved SMK3 Gold certification.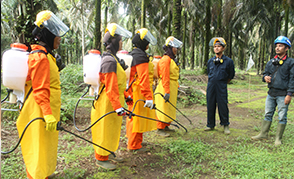 All workers are required to use PPE equipment. The respective PPE equipment is distributed to workers in line with their specific tasks. Regular training is conducted to raise the awareness on the importance of PPE and to ensure its correct use
Safety Goals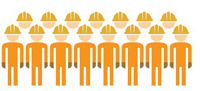 Labour Standards
In 2019, no operations or suppliers were identified where collective bargaining, or freedom from forced or child labour, are at significant risk.
IndoAgri provides employment to over 62,000 people in Indonesia, where more than half of our employees are based in Sumatra and Kalimantan
Our commitment to responsible employment is found in IndoAgri's Sustainable Agriculture Policy . This, along with our Values, drives us to respect labour rights of all, to prohibit forced and child labour, to protect freedom of association and collective bargaining, and to promote diversity and equal employment, for example.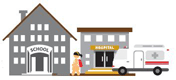 Employee Welfare
The well-being of our employees is crucial to our business productivity. Through our collaboration with local governments and hospitals, we provide free access to essential medical support, facilities and infrastructure for the people living on our estates.
We operated 189 clinics on our plantations in 2019.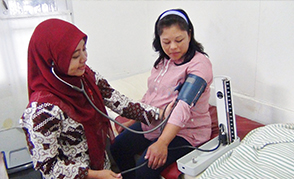 Medical facilities. Clinics and first aid posts are provided on every estate for workers and their families. Community Health Centres ('Posyandu') are also available in the wider community for maternal and infant health care. We also operate or sponsor 194 Posyandu, supported by 267 midwives/nurses and 59 doctors.

Community Engagement
IndoAgri operates programmes to support education, health, infrastructure, micro-enterprise, farmer training, culture, and humanitarian relief.
As an agricultural business with operations in rural Indonesia, our business plays a crucial role in helping improve the economic income and livelihoods of the rural Indonesian communities. The outcome we would like to achieve are improved livelihoods and increased resilence for our farmers and suppliers, communities and families.
Besides formal employment, we actively collaborate with the local communities through our Solidarity Programme which aims to improve the quality of life in our nucleus and plasma estates.
We have initiated many community development activities through our Solidarity Programme, which seeks to improve the quality of life in the estates through capacity building, education and financial support.
To tailor our community programmes to the needs of each community and estate, we have started conducting Social Impact assessments through an external party at each of our estates and factories. We consider factors such as the cultural background, literacy rate, living condition and economic situation of the local community before tailoring a programme that suits the developmental need.
Over the years, we have provided support to our local communities in the following areas:
Infrastructure development
Disaster relief
Preservation of culture, including religious activities
Sports events
Empowerment programmes, including training and financial support for local entrepreneurs
Education,including scholarships for employees' children, incentives for teachers and renovation of school facilities
Environmental conservation initiatives outside the estates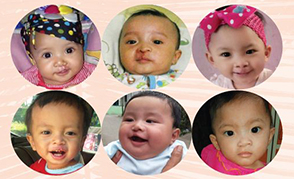 Cleft Lip Surgery Program.
Our flagship cleft lip programme is a vital contribution to society in Indonesia. Few people know the depth of action by our team: from searching for cases, pre-operation family counselling, surgery and post-operative care or speech therapy. The team delivered 113 operations on 91 patients in 2019 (a total of 500 operations on 435 patients since 2014). Parents or legal guardians of these children can approach the estate management or Dina (+6281219678831) for assistance. The public is encouraged to share the programme with the parents and legal guardians of children with cleft palates.
Details of the programme are available at
www.simp.co.id/CSR/CSR.aspx.