We use a set of policies, targets, certification, standards and programmes – all underpinned by robust governance – to create the desired outcomes relating to ten high priority risks and opportunities.



Policies
Our Sustainable Agriculture Policy (Policy) guides all our sustainability programmes. The Policy references international sustainability principles and standards, including ISPO.
Underpinning this policy are the following core commitments to ensure traceable and sustainably produced palm oil:
No deforestation; conservation of High Conservation Value (HCV) and High Carbon Stock (HCS) areas
No planting on peat regardless of depth
No burning
Respect for Labour and Human Rights including Freedom of Association and non-discrimination
Free, Prior and Informed Consent (FPIC).
The Policy applies to all our operations, including our plasma smallholders and third-party suppliers from whom we purchase for our factories.
The Policy aligns with our Responsible Supplier Guidelines which apply to all of IndoAgri's CPO suppliers. Our Code of Conduct guides the Board of Directors and employees of the IndoAgri and its subsidiaries on business ethics.
Sustainable Agriculture Policy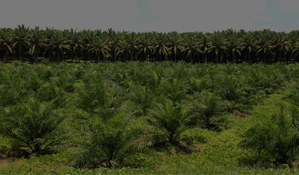 Code of Conduct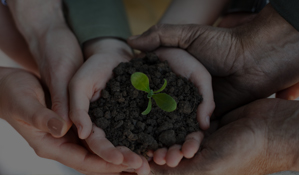 Targets and Performance
Material topics relevant to IndoAgri Palm Oil operations
A. Protection of Forests, Peatlands and Biodiversity
B. Fire Control and Haze Prevention
C. Climate Change and GHG Emissions
D. Water, Waste and Effluents
E. Use Of Fertilisers, Pesticides and Chemicals
F. Responsible Business Conduct (RBC)
G. Community Rights and Relations
H. Occupational Health and Safety (OHS)
I. Smallholder Engagement and Livelihoods
J. Supply Chain Traceability and Transparency
K. Sustainability Certification
L. Product Quality and Safety
M. Yield Resilience and Innovation
N. Human, Child and Labour Rights
O. Pandemic Resilience
RESPONSIBLE BUSINESS CONDUCT
Relevant material topics: F

PANDEMIC RESILIENCE
Relevant material topics: O

PROTECTING OUR ENVIRONMENT
Relevant material topics: A, B, C, D, E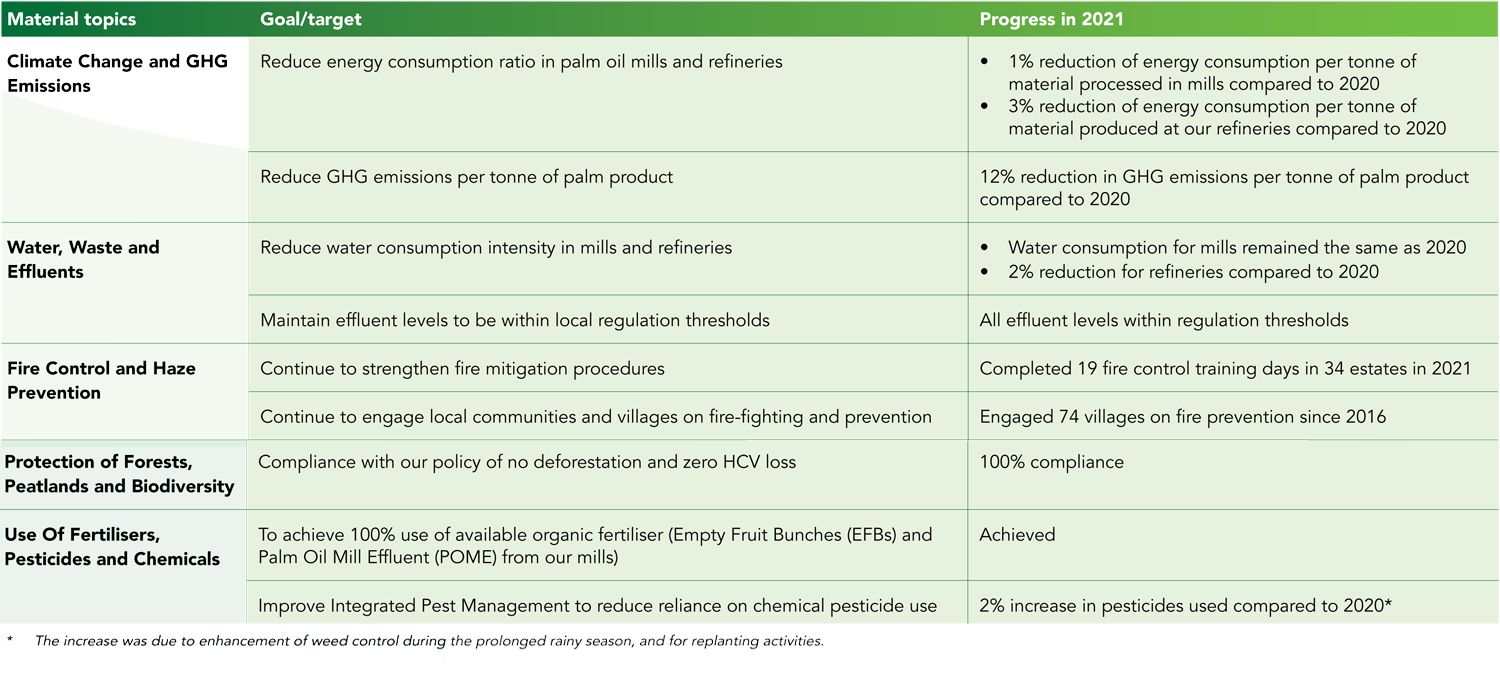 RESPONSIBLE SOURCING
Relevant material topics: I, J, K, L, M
Certification is a key tool to help deliver on our Policy goals on deforestation, peatland, burning and human rights. Please see detail on sourcing targets below.

OUR PEOPLE
Relevant material topics: H, N

COMMUNITY RELATIONS
Relevant material topics: G

PRODUCT INTEGRITY
Relevant material topics: L


Governance and Risk
BOARD AND SENIOR MANAGEMENT
The Board and senior management of IndoAgri are responsible for enforcing the Group's high standards of corporate governance. This is achieved using business management processes. The aim is to deliver organisational performance, accountability and transparency.
As of 31 December 2021, the Board comprised an independent non-executive director who serves as the Chairman, three independent directors, three executive directors, and two non-executive directors, represented by five Indonesians, three Singaporeans and one British. The Board is assisted in its duties by the Executive Committee, Audit and Risk Management Committee, Nominating Committee and Remuneration Committee. The detailed terms of reference of each committee, disclosures on directors' remuneration and significant policies can be found in the Corporate Governance section of our Annual Report www.indofoodagri.com/ir.html
ENTERPRISE RISK MANAGEMENT UNIT
IndoAgri's Enterprise Risk Management (ERM) framework encompasses all operating and functional units. Systematic and coordinated risk management is delivered under the framework by the ERM Unit, which reports to the Executive Committee and an independent Audit Committee, supported by the Board and senior management of IndoAgri. The Unit ensures the timely and accurate identification, assessment, mitigation, reporting and monitoring of risks that can adversely impact IndoAgri's ability to achieve its business objectives. Our Code of Conduct and our whistle-blowing mechanism complement our ERM.
Since there are various risk issues common to ERM and sustainability management, the Head of the ERM Unit also reports on the effectiveness of sustainability strategies and compliance. "Risk owners" and business unit managers conduct quarterly assessment and reports of current and emerging risks, including sustainability risks. The ERM Unit analyses risk reports and proposes an action plan to address specific issues. Risk reports are then shared with the internal audit team, who validates the findings and actions taken.
MONITORING AND EVALUATION
IndoAgri's sustainability management information system (SMIS) uses real-time data from our SAP system to help track the Group's progress against its sustainability targets. The Group's sustainability progress and performance can be viewed online using a 'dashboard'. We also track the level of ISPO, PROPER and ISO 14001 'readiness' at our operations. This means we can make adjustments to any relevant plans during operations meetings in Jakarta which can then be approved by the Board.
SUSTAINABILITY STRUCTURE
The Sustainability Team works with the R&D team to improve agronomic practices and HCV area development. The Enterprise Risk Management Unit supports the team in matters relating to policy development, strategy formulation and issues resolution.
The Sustainability team reports to the CEO and prepares the agenda for the Sustainability Think Tank, comprising the Board members of the Group and its principal subsidiaries. The Sustainability Think Tank meets regularly to review the progress and direction of the Group's sustainability management efforts.
To lend greater focus to the different geographic areas, the Sustainability Team is sub-divided into regional teams, who report directly to the Group's Sustainability Coordinator in Jakarta.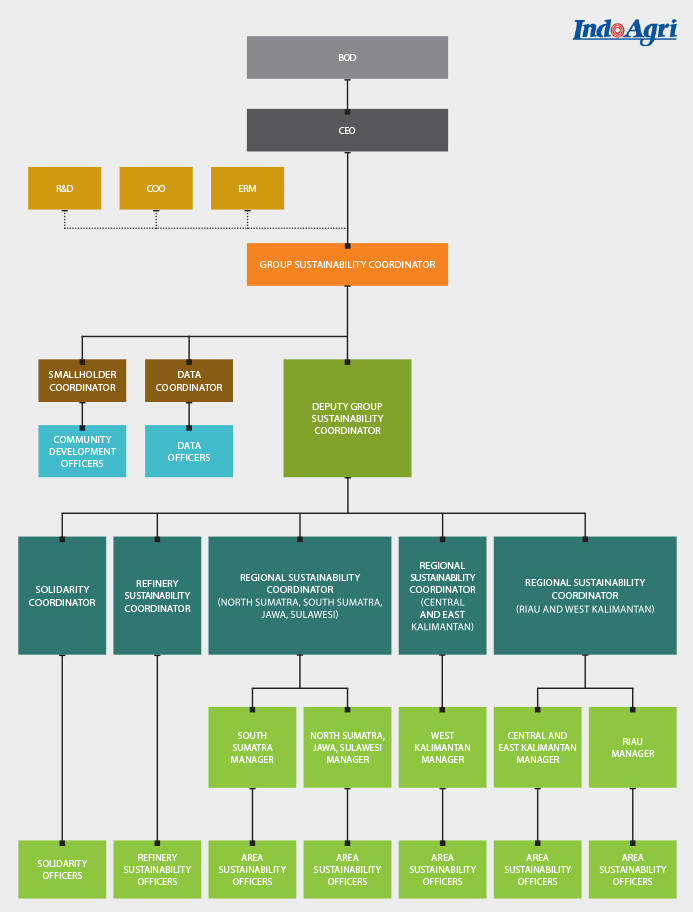 Programmes
We run six core programmes that help monitor our performance on each material topic, to deliver our Sustainable Agriculture Policy.